Smoky Blues For Sale
We will have Smoky Blue chicks for sale in the Spring of 2019.
These will be strong, healthy chicks hatched from productive parents selected for the Smoky Blue size and type. The Smoky Blues on Smoky Buttes Ranch are bred for the unique Blue coloration. We are very fortunate that the previous breeders of these birds held that production characteristics were also important. These Smoky Blues are among the most productive Heritage birds around. You can expect the best pullets to top 240 eggs laid in their first year, with strong production through their second. The males will finish out and be ready for the table, in 16 to 18 weeks. They will perform equally well in a commercial pastured egg operation or a backyard flock. These Blue birds are incredibly rare and these are big, uniquely colored specimens not to be found elsewhere. They will be NPIP and AI tested – #KS445.
We will ship chicks via the United States Postal Service. On-farm pickup is also available. The minimum order for shipped chicks will be 15. We can handle orders of up to 40 Smoky Blue chicks in a single hatch. The price is $8.00 each, plus shipping. Full payment will be expected with the order.
Small Quantity Multiple Breed Order
We are capable of shipping chick orders with more than one breed of chicks, depending on availability. You will still need to order a minimum of 15 chicks. When ordering less than 15 of any one breed, each chick will be $10.
Click here for Terms and Conditions
We will have started Smoky Blue pullets available for on-farm pickup beginning in May. These will be 16 week old pullets hatched from the same stock described above. There will be no minimum order for started pullets. The price is $20.00 each.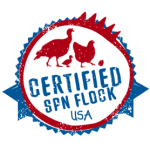 In poultry, the "blue" color does not breed true. Two mated blue birds will yield 50% blue chicks, 25% black chicks, and 25% splash chicks.